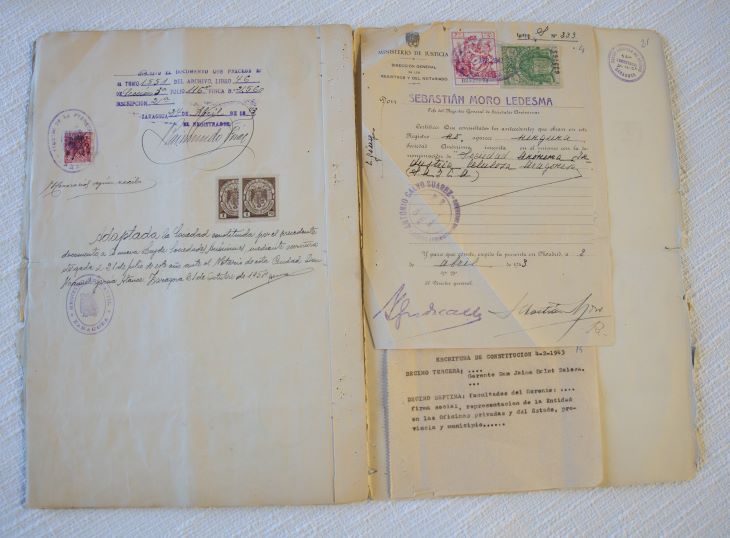 The Saica Group celebrates its 80th anniversary
Zaragoza, 02 Feb 2023
• On 4th February 1943, a company was founded who is today celebrating its anniversary with its mission and values in full force and effect.
• The company is today a multinational with more than 10,000 employees and presence in 11 countries through its business units.
• The future involves further decarbonisation of the group, continued commitment to circular economy and international expansion following ESG sustainability criteria.
The incorporation, on 4th February 1943, of Sociedad Anónima Industrias Celulosa Aragonesa, S.A.I.C.A., gave rise to what today, 80 years later, is the Saica Group. A multinational that retains its family character and whose leadership is held by the third generation, whose headquarters still are in the same place where it was born, Zaragoza, and which today has more than 10,000 employees and is present in 11 countries around the world, through its four business divisions.
In addition to these figures, which illustrate the sustained growth of the company since its beginnings, the Saica Group celebrates its 80th anniversary with its mission and values in full force. Providing sustainable paper solutions for corrugated board and packaging, while at the same time developing circularity in waste management, is the purpose of a company that has also adopted the values We Care, We Value and We Challenge as its own, and which is currently committed to achieving the objectives set out in its strategic plan 'Saica 2025'.
Over the course of these eight decades, key milestones have contributed to the success of what started out as a small paper mill. In 1975, the first diversification of the business took place, with the creation of what are today Saica Natur and Saica Pack. In 1987, in a pioneering move in Spain, cogeneration was adopted as a model for energy production. In 1998, the company opened up to international markets, and in 2000 the first light papers, the company's hallmark, began to be manufactured. In 2011 the Waste-to-Energy Plant was inaugurated in El Burgo de Ebro (Zaragoza) and in 2012 the group opened its first paper mill in the United Kingdom.
More recently, in 2015, Saica Flex, the group's fourth division, and the Low-Density Polyethylene Recycling Plant, also in El Burgo de Ebro, were launched. Three years later, Saica strengthened its leadership in paper production in Europe with the purchase of the French company Emin Leydier and, at the same time, launched the Saica Paper Infinite range, 100% recycled white paper. In 2019, it began its decarbonisation process, with the inauguration of its first biomass boiler in Venizel (France). In 2020, Saica's presence in the USA was boosted with a Saica Pack plant, and in 2022, the group's entry into Poland was completed with its first Natur plant, the 11th country in which Saica is present.
Meanwhile, the future, looks exciting. On the near horizon, this year, we can glimpse the inauguration of the second biomass plant, to be built in Champblain (France), as well as the R&D&I centre for the whole group and the Reel Automatic Warehouse, both in El Burgo de Ebro. For the medium and long terms, the company plans to continue deepening its decarbonisation process and its commitment to the circular economy, without renouncing further international expansion, always following ESG (Environment, Social and Governance) sustainability criteria.
Ramón Alejandro, Chairman of the Saica Group, expresses his satisfaction at the special anniversary to be celebrated on 4th February: "Saica arrives at this moment better and stronger than ever". And it does so," he adds, "with the same spirit with which its founders conceived this then small paper mill. "To them, to the five presidents who have preceded me, Mr Manuel Balet Salesa, Mr Jaime Balet Salesa, Mr José Manuel Balet Aragües, Mr Joaquin Balet Herrero, Mr Eduardo Aragües Lafarga, to the employees and executives, and in general to all our stakeholders, we owe what Saica is today". "Remaining a family company has also allowed us to achieve sustained growth and to develop long-term strategies that, we are sure, will continue to provide us with moments to celebrate", he concludes.
About Saica Group
Saica Group is one of the leading companies in Europe in the manufacture of recycled paper for corrugated board, with an annual production capacity of 3.3 million tons of recycled paper for corrugated board. With more than 10,000 employees and a presence in Spain, France, Italy, Portugal, the United Kingdom, Ireland, Turkey, Luxembourg, the Netherlands, the United States and Poland, Saica Group has four business lines: manufacture of recycled paper for corrugated board (Saica Paper), waste management and environmental services (Saica Natur), production of corrugated board packaging (Saica Pack) and flexible packaging (Saica Flex). The group's turnover is €4,394 million, consolidated turnover at Dec. 31, 2022).